Relocation to Garrett County
Already rich in natural beauty, Garrett County offers something even more powerful: an outstanding quality of life. From stellar schools and healthcare facilities to a commitment to economic development, Maryland's westernmost county is the ideal place to visit, do business or call home.
Why did I move to Garrett County?
"As a young professional, I moved to Garrett County because of abundance of outdoor recreation, small town atmosphere and proximity to major metropolitan areas. Every day, the beautiful scenery reminds me that people came here year-round to 'escape and getaway from it all.' I consider myself lucky to live and work in Garrett County. After work, I'm faced with the difficult decision of what to do that evening - golf, bike, snowboard, hike..."
- Lori Epp, Young Professional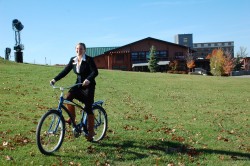 Bringing Business & Family to Garrett County
Why did we choose Garrett County for our business?
"When we first moved our business here, we had 14 full-time employees. Today we have 70 employees in the county and another 100+ in other locations. That growth was made possible through the outstanding support provided by the Garrett County Department of Business Development, the Garrett County Chamber of Commerce, the Garrett Information Enterprise Center, and the county government. We're amazed by the number of highly qualified employees and the strong work ethic displayed here. What a great place to live and work!"
- Jim & Shirley Bailey, owners of GCC Technologies, LLC