Activities, Attractions, Food, Beverages & Shopping
The town of Friendsville, founded in 1765, is Garrett County's oldest settlement. Friendsville may be most well-known for their world-class whitewater rafting and kayaking on the Youghiogheny River, but Friendsville is also home to a wide variety of outdoor activities, shopping and the only winery in Garrett County.
Whitewater enthusiasts have come from around the country, and even the globe, to take on the rapids of the class IV/V Youghiogheny River. Visitors can book with several outfitters who run rafting and kayaking trips on the Youghiogheny river. Please note, when whitewater rafting, the river is extremely difficult and potentially dangerous and must be treated with respect.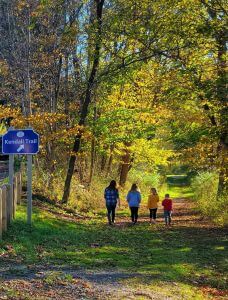 If you're looking for one of the most scenic hikes in Garrett County, head to Friendsville's Kendall Trail which runs along the Youghiogheny River. The trail is 3 miles out and back and can be muddy at times so please wear appropriate footwear. The trail follows an 1890s era railbed to an old logging community called Kendall (originally Krug). Little remains of the town of Kendall but in its heyday this busy mining and lumber town was the southern terminus of the Confluence & Oakland Railroad and the beginning of the Krug Lumber Railroad that had narrow gauge rail lines extending throughout the river valley.
Deep Creek Cellars, Garrett County's only winery, is a European-style winery making artisanal, natural wine from regional grapes for over 25 years. Shop local foods, gifts and crafts and partake in wine tastings. Reservations are requested for groups of 4 or more; parties fewer than 4, no reservations required but calls ahead at 301.746.4349 are appreciated.
Stillwater Haven is a 6,000 sq. ft. private luxury vacation rental home along the Youghiogheny River along the scenic shores of the Youghiogheny Wild and Scenic River corridor. Stillwater Haven sleeps a maximum of twenty people and features an outdoor pavilion with wood-burning fireplace, gourmet kitchen, billiards and ping pong table, among other amenities.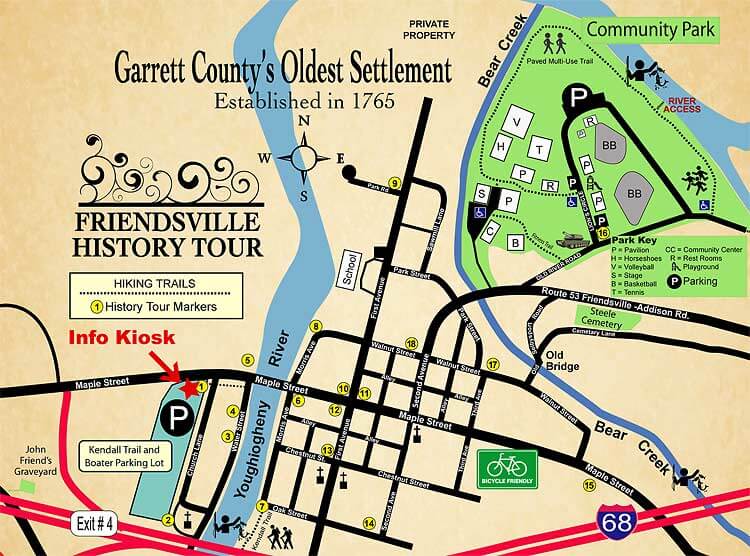 Step back in time with the Friendsville Interactive History Tour. The tour features 18 stops which showcase the area's rich history.
Friendsville's Riverside Community Park features a paved walking and biking loop, river access ramp and a small sand beach, fishing access to Bear Creek and the Youghiogheny River, two baseball fields, pavilions, basketball courts, horseshoe pits, sand volleyball court, tennis courts, large playground and plenty of open space.
Riverside Community Park also hosts the Garrett County Celtic Festival each June featuring Celtic music, Irish dancers, pipes & drum bands, workshops, children's activities, food and more. The town hosts their annual Friendsville Days Festival every August which features a flotilla, fireworks, live music, food, crafts, puppet show, cornhole tournament, inflatables, car show, contests, pony rides, mechanical bull, parade and more!
All Earth Eco Tours offers kayaking tours on the Savage River Reservoir, guided nature tours and walks, private yoga instruction and snowshoeing tours, among other activities.
Shop Schoolhouse Earth for gourmet foods, gifts, garden accessories, home decor, jewelry, children's books and toys, art, candles and a year-round Christmas room for collectible Santas, angels, snowmen and ornaments. Don't forget to bring the family to visit all the animals in the free petting zoo!
History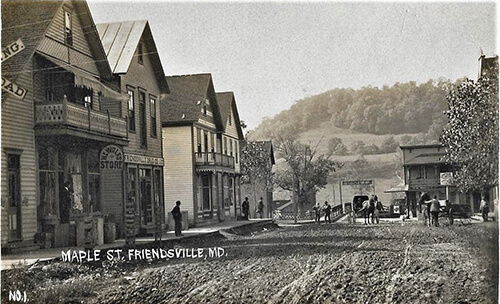 Friendsville is named after its first European settler, John Friend Sr., who came to what is now Garrett County before the American Revolution. Many of Friend's descendants live in Garrett County today, and the headquarters and library of the Friend Family Association are in Friendsville because of this connection.
"Friendsville was initially founded in 1765 when John Friend Sr. (1728 to Aft. 1808) traveled from (what is now) the area of Paw Paw, WV. If you are from the Garrett County, Maryland area and a descendant of one of the many pioneer families, we are sure you think that a new article about the history of Friendsville could not be written. In many ways this is correct. There has been much written of this area, along with some family histories. However, if (as some old timers would say) "you have the mud on your feet and you can never wash it off", there is pride for this land, this area, and these people."
From Friendsville a Brief History Shirley Drent, Patty Friend Thompson, Patrick Smith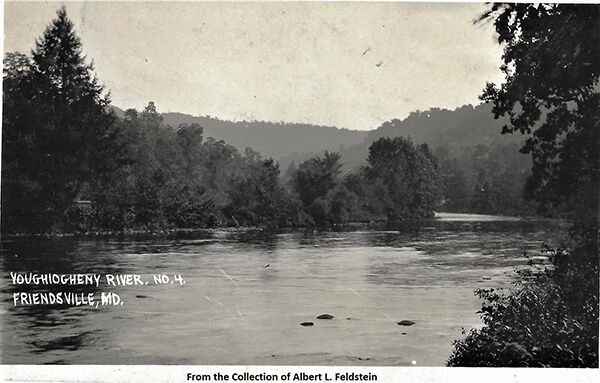 Native Americans named the Youghiogheny River, which translates into our language as "a river that flows in a contrary direction" because, as strange as it seems, the river flows from south to north. Life in the river has certainly changed since the early days of the first settlers when they encountered brook trout thriving in the river. By the early 1900s, deforestation and coal mining devastated the river. In 1929 Albert Powell, a fisheries biologist for the state, described a major fish kill: "I observed many numbers of all species of fish floating downstream and collecting in the eddies. I recall rainbow and brook trout, smallmouth bass, sunfish, rock bass, minnows, and mudpuppies (or hellbenders as they were sometimes called)." The fish kill was caused by a slug of very acidic water originating at the Crellin Mine and killing fish as far downstream as Friendsville. Today, the "Yough" is much healthier. The Yough was established as Maryland's first Wild and Scenic River in 1976. The river now offers excellent opportunities to catch trout and smallmouth bass. River otters, mink, and ospreys once again call this river home.