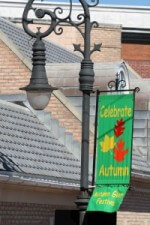 Wednesday, October 12 - Sunday, October 16, 2022
The annual Autumn Glory Festival is a five-day celebration of autumn that celebrates the beauty of the local fall foliage. Additional information about the 2022 festivities will be added as we get closer to the event but see below for information on the 2021 celebration.
The Mountain Maryland Gateway to the West Heritage Area, a program of the Garrett County Chamber of Commerce, will once again offer their annual Turkey Trail, sponsored by the Garrett County Republican, which celebrates the event's roots by promoting area turkey dinners served in our region. The Heritage Area will also have two new Fall Foliage Driving Tours, sponsored by Advanced Heating & Cooling, LLC and Ledo Pizza, Pasta & Pub, highlighting some of the area's most scenic spots to view our stunning Autumn leaves.
The Town of Oakland and the Greater Oakland Business Association will host the annual Autumn Glory Grand Feature Parade, sponsored by First United Bank & Trust, on Saturday, October 15, 2022.
Garrett County's annual Autumn Glory Festival landed in the international spotlight in 2007, when the popular travel website, MSN.com listed it tops among fall festivals in the world. Good Housekeeping has listed our Oakland, MD among the Top 50 Small Towns with the Best Fall Foliage; Travel & Leisure listed Oakland, MD as the number 2 Best Town for Fall Colors in America; and TripAdvisor selected Oakland, MD as one of 20 Best Fall Vacations in America for Seeing Autumn Foliage.  Oakland was also selected by U.S. News and World Report as one of 50 Small Towns Across American with Gorgeous Fall Foliage and Readers Digest listed Garrett County as one of the 11 Road Trips That Showcase Stunning Fall Foliage You Need to Take This Autumn.​
Grand Feature Parade - Saturday, October 15, 2022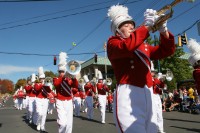 The Grand Feature Parade will be held Saturday, October 15, 2022. Thousands of visitors gather to view regional bands, local professional and amateur floats, dance teams and dignitaries. The parade begins at 1 pm in downtown Oakland on Omar Street and runs down the length of 2nd Street, rounding Alder Street and then ending on 3rd Street near Fox's Pizza Den. Concessions are available on Green Street located across from Naylor's Hardware.
2022 Grand Feature Parade Road Closings
Please note: several Oakland roads will be closed before and during the 55th Autumn Glory Grand Feature Parade, which begins at 1 p.m. Saturday, October 15, 2022. Second Street will be closed to traffic from Liberty Street to Center Street at 9:30 am. Both Second and Third Streets, from Omar Street to Alder Street, will be closed to all vehicles at 11:00 a.m. Traffic needing to bypass Oakland will be directed to detour along Fourth Street until the parade ends. Center Street will remain open until 12:45 p.m. Memorial Drive also will be closed to through traffic from Fourth to Eighth Street. No one will be able to turn onto Fourth Street from Memorial Drive. Barricades and police officers will prevent access onto Memorial Drive from Fourth to Eighth streets. Emergency vehicles should use Kings Run or Eighth Street to Memorial Drive.
Parking along the parade route, which includes parts of Second, Third and Alder streets, is prohibited prior to and during the parade. Business owners or employees should contact Oakland City Hall at 301.334.2691, Oakland Police Department at 301.334.2100 or the Chamber of Commerce at 301.387.4386 in advance to obtain a pass to gain access inside the parade route, this includes the handicapped parking at the Masonic Lodge on First Street. Garrett County Deputies, Maryland State Troopers and State Highway employees will be assisting the Oakland Police Department with traffic control during the Autumn Glory parade. Oakland Police Chief Bill Thomas encourages anyone coming to the festival and parade to come early to find a good parking space and enjoy the food and entertainment.
Free parking will be available in the town parking lot at the end of Second Street across the railroad tracks. For questions or concerns please free to contact Chief Thomas at Oakland Police Department or Oakland City Hall between 8:30 a.m. to 4:30 p.m.
View The 2021 Autumn Glory Brochure
Get all the details on our Autumn Glory events in our official 54th Annual Autumn Glory Festival Brochure.
A detailed listing of Autumn Glory Festival events from October 13 - 17, 2021 the brochure also includes a map, Fall Foliage Heritage Driving Tours and more.
Download a copy or request a hard copy be mailed to you.
Patriot Automotive Chrysler Dodge Jeep Ram: King of the 4WD is the title sponsor of the 54th annual Autumn Glory Festival.
2021 Fall Foliage Driving Tours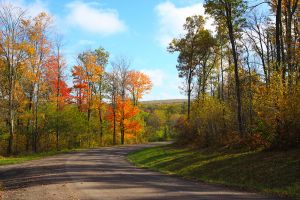 What better way to enjoy fall than with a fall foliage driving tour?  Join us on our two driving tours in 2021.
Our short tour, which is 25 miles long, should take approximately 1 hour. You'll travel along beautiful scenic routes and have an opportunity to visit some great heritage spots such as, the Cranesville Swamp, Swallow Falls State Park and Fork Run Recreation Area.
Our Extended tour is 62 miles and should take approximately 1 hour and 45 minutes. On this tour, you'll have an opportunity to stop by Maryland's highest point, Historic Downtown Oakland and the African Methodist Episcopal Church to name just a few stops on this trip.
2021 Fall Foliage Driving Tours Sponsors
2021 Grand Feature Parade Applications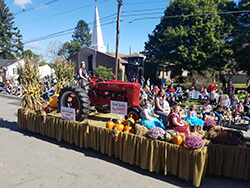 The Town of Oakland and the Greater Oakland Business Association is currently accepting applications for the 54th Annual Autumn Glory Grand Feature Parade, sponsored by First United Bank & Trust, at 1 pm on Saturday, October 16, 2021 in downtown Oakland. Applications have been mailed out to previous participants. If you're interested in participating, just complete and return your application to the the Town of Oakland the Greater Oakland Business Association by Friday, September 17, 2021.
Participants can be drill teams; police/military; drill teams; majorette/twirling, drum and bugle corps, marching musical units and stationary musical units. Professional, commercial or amateur floats are welcome; we simply ask that all entries are autumn-themed in celebration of our annual Festival. This year's parade is sponsored by First United Bank & Trust. Please see below for the float application and the band applications.
2021 Autumn Glory Grand Feature Parade Band Application
2021 Official Autumn Glory Photo Canvas Virtual Auction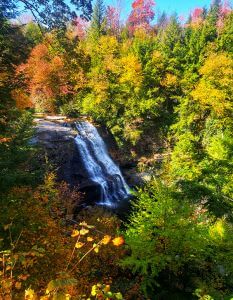 The Garrett County Chamber of Commerce produces an official Autumn Glory Festival brochure that includes events around Garrett County. Each year a photo is chosen that represents Garrett County, Maryland's natural beauty and focuses on an autumn theme featuring fall foliage/colors.
The photo from this year's Autumn Glory brochure cover has been blown up to 20" x 30" and printed on gallery-wrapped canvas. Commemorate the 54th Annual Autumn Glory Festival by displaying this beautiful canvas in your home or office. Only one canvas is available.
All auction proceeds are allocated toward tuition assistance for 2021 Autumn Glory King Logan Perry and Queen Sara Huelskamp.
You can access the auction by clicking HERE. The auction will run from Wednesday, October 6 at 9:00 am until Wednesday, October 13 at 9:00 pm.
Now Accepting Royalty Applications for the 55th Annual Autumn Glory Festival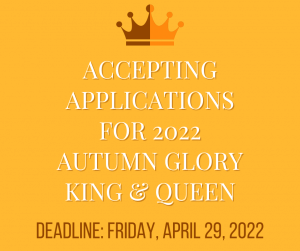 Please help spread the word that the Garrett County Chamber of Commerce is inviting all those Garrett County students currently in their junior year of high school to submit an application for Autumn Glory Royalty, with fee, by Friday, April 29, 2022 for consideration. This year, we will be choosing a King and a Queen to represent the 55th Annual Autumn Glory Festival at a variety of events throughout the summer and fall of 2022 including: Grantsville Days Parade, Deep Creek Lake Boat Parade, Accident Homecoming 4th of July Parade, Kitzmiller Homecoming Parade, Friendsville Days Parade, Buckwheat Festival Parade, Autumn Glory Kick-Off Reception & Dinner, Oakland Fireman's Parade, Autumn Glory Grand Feature Parade, and more!
Both the King and Queen will receive an educational contribution. As part of the application, you are required to submit a 300-word essay on why you think you should be selected to be part of the Royalty Court. This is in addition to the application fee of $25.00. Interviews will be conducted by appointment in May 2022 and we hope to complete the process by June 1, 2022. If you have any questions, please feel free to contact Nick Sharps at the Garrett County Chamber of Commerce by calling (301) 387-5237 or emailing nick@garrettchamber.com.
Click here to download the Royalty application for additional information.
2021 Autumn Glory Festival King & Queen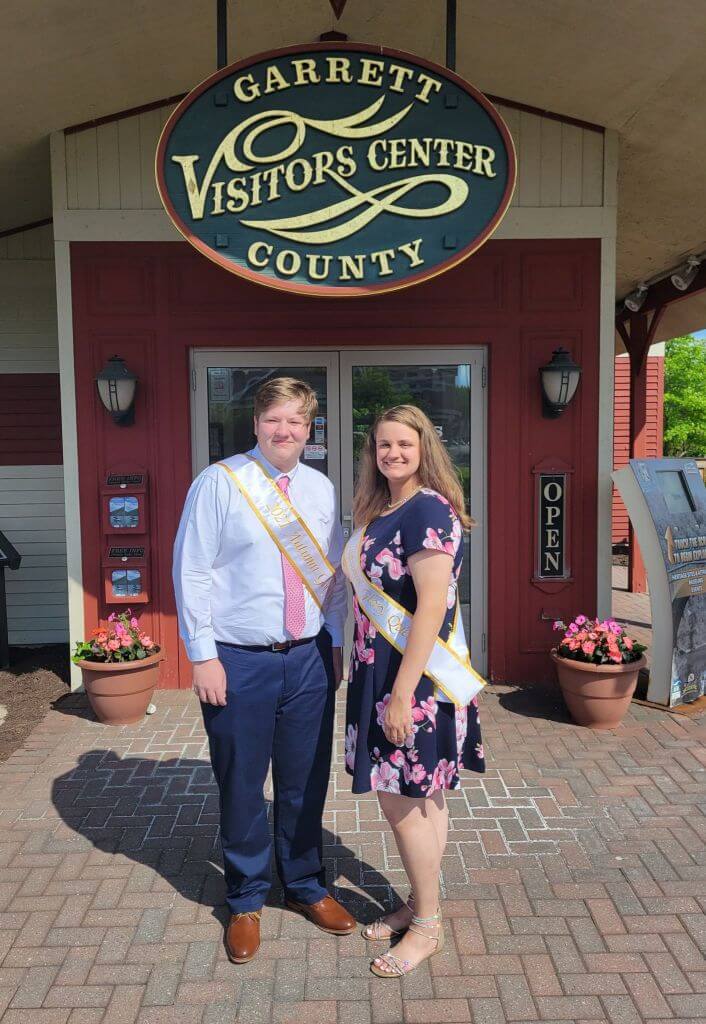 The 2021 Autumn Glory Royalty Court has been selected for the 54th Annual Autumn Glory Festival. This year's King is Logan Perry and the Queen is Sara Huelskamp. Patriot Automotive CHRYSLER DODGE JEEP RAM: King of the 4WD, is the title sponsor of the 54th Annual Autumn Glory Festival.
Logan Perry is Master Councilor of the Cumberland Chapter Order of DeMolay and a junior member of the Deep Creek Volunteer Fire Department. He is a member of Bittinger Lutheran Church and is a member of the youth group. Logan is currently employed at Deep Creek Shop N Save.
Sara Huelskamp currently serves as the president of the Garrett County Association of Student Councils and is the Divisional Liaison for Maryland Student Council. At school Sara is the captain of the Northern Mock Trial team, a member of National Honor Society, and the president of the class of 2022.  She is also a member of Bittinger 4-H and is a very active participant at the fair and a dedicated volunteer in her community. She is a student at Frostburg Dance Academy and is a member of the G-FORCE robotics team.
The Autumn Glory King & Queen will preside over the Autumn Glory Kick-Off Reception & Dinner to be held on Wednesday, October 13, and they will be featured in the Autumn Glory Grand Feature Parade on Saturday, October 16. Besides having the honor of representing their home county during the Autumn Glory Festival and at other events, the Royalty Court will receive a monetary contribution towards future educational attainment endeavors.
The 54th Annual Autumn Glory Royalty Court sponsors are Byco Enterprises, Inc; Crossroads Church; Deep Creek Watershed Foundation; LakeFront Lodge; Oakland DQ Grill & Chill; and Railey Realty.
54th Annual Autumn Glory Royalty Court Sponsors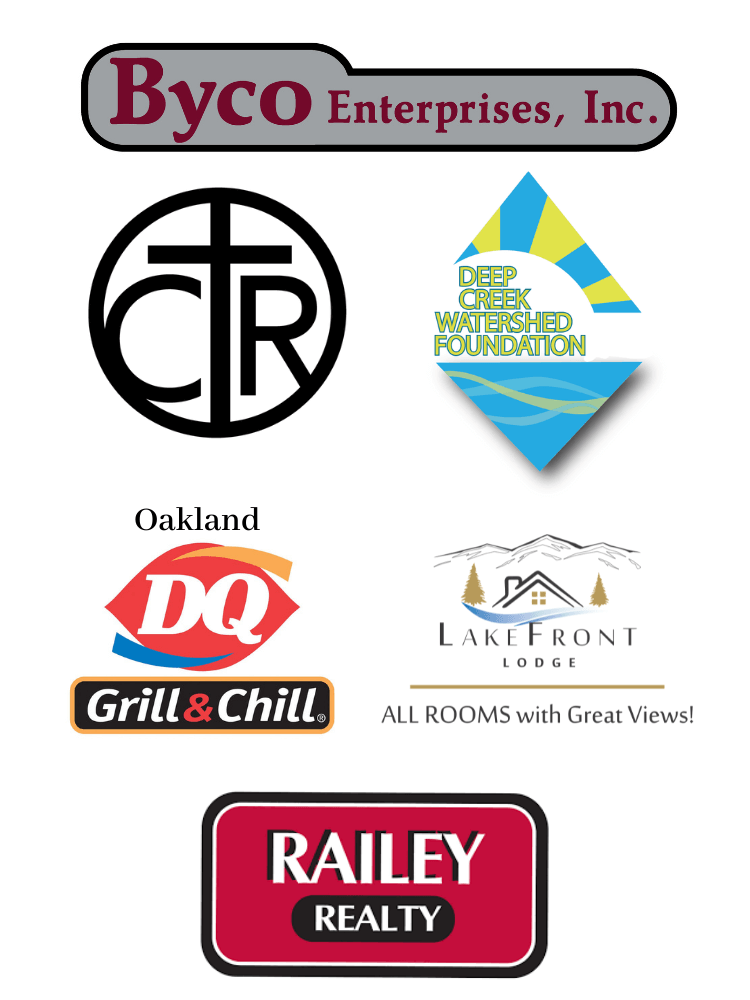 2021 Autumn Glory Festival Turkey Trail
Celebrate the Autumn Glory Festival with a taste of local tradition. More than a decade before the Autumn Glory Festival became an annual event, a group of turkey growers organized and promoted community turkey dinners. "The turkey dinners were an on again-off again event until the Lions Club became involved in the 1960s," said local historian John Grant. However, the idea of a large festival to attract visitors to the area remained popular and led to the start of the Autumn Glory Festival. Today, more than 50 years later, turkey dinners are still a favorite tradition of the festival celebration.
The Turkey Trail is an easy-to-use tool for visitors and residents to locate our county-wide dinners served at restaurants, churches, grocery stores and other organizations. The Turkey Trail flyer contains a map, contact information, hours of operation, cost and the delicious items that are included with each dinner. Turkey dinners around the area offer a variation of turkey, mashed potatoes with gravy, stuffing, vegetable, rolls and dessert. (Check flyer for specific offerings at each location). The Turkey Trail flyer is available at the Garrett County Visitors Center as well as a downloadable PDF online at garrettheritage.com. There, you will also find an interactive map that will help with directions to each of the locations.
Visit garrettheritage.com for more information.
54th Annual Turkey Trail Sponsor