Heise Entrepreneurial Spirit Award
The Heise Entrepreneurial Spirit Award was named in honor of Helmuth and Evelyn Heise, founders of Will O' the Wisp and Wisp Resort, Maryland's only downhill ski resort. The Heise Award is given to one business owner each year that has shown similar entrepreneurial qualities. The criteria for nomination include the following:
Open to business owners including partners/families that originated, developed, and/or significantly expanded business
Willingness to take risks with possibility of losing all
Involved in the community
High ethical standards
Nominee must be a member of the Chamber of Commerce
Demonstrated leadership (through one or more of the following): 1) By overcoming a formidable problem that threatened the business's existence 2) By showing business acumen through embarking on a creative, insightful or overlooked opportunity that makes important contributions to Garrett County's business environment 3) Through substantive community impact
The Heise Entrepreneurial Spirit Award Committee, composed of previous winners, will choose 3 finalists and present them to the Board with a recommended winner. Then the Chamber Board of Directors will choose the winner. The winner of the annual award is announced during the Annual Chamber Meeting & Dinner.
2022 Heise Award Winner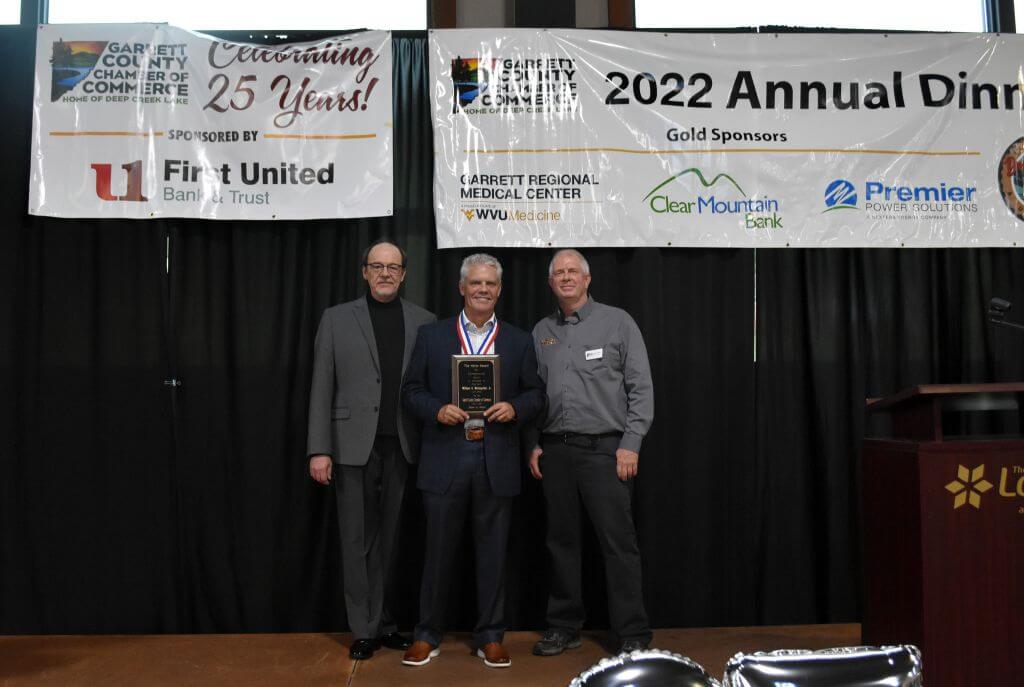 The winner of the 2022 Heise Entrepreneurial Spirit Award was announced during the Garrett County Chamber of Commerce's Annual Membership Meeting & Dinner on Thursday, June 2, 2022. Martin Heise made the presentation to this year's winners, Bill Weissgerber co-owner and associate broker of Railey Realty.
Bill's contributions to Garrett County and the community have made lasting impressions on those who call this place home. Bill is 1976 graduate of Southern Garrett High School, where he painted the first Ram mascot on the hardwood at half court, and was later inducted into the hall of fame. His creative instincts and hardworking personality paired well with his burgeoning real estate career.
Bill began his real estate endeavors at A&A Realty in 1984, where he quickly became the top producing agent, earning multiple national sales awards. He moved to Railey Realty in 1992, earning his associate broker designation and garnering an ownership stake within the company. Bill has been a top producing agent not only in Garrett County, but also in the state of Maryland, often performing within the top 1% of agents in the state.
In addition to his busy real estate career and raising his own family, Bill carved out time to give back to his community. He assisted with coaching the Southern Garrett High Lady Rams basketball team for several years, including two state championships. Following community tragedies close to his heart, Bill started an annual event aimed at raising money for the youth of Garrett County.
In 10 years, the WGW Community Youth Cup raised more than $1M+ for the youth of Garrett County, supporting dozens of organizations in addition to Samantha Funding the Arts, Landon's Library, and The Andrew S. Woods Memorial Scholarship. The proceeds from this annual event have helped fund the 'Learning Beyond the Classroom' school bus, which delivers meals and educational materials to children during the summer months. In addition to his efforts with his own event, he is also an active member on the Garrett County Regional Hospital Board and a board member for Clear Mountain Bank.
"It cannot be overstated the substantial impact Bill has had on our community. He has worked tirelessly over the years to elevate Garrett County through his work at Railey Realty, volunteering, and philanthropy. Recognizing these efforts is what the Heise Entrepreneurial Spirit Award is all about," said Regina Sweitzer, Interim President of the Garrett County Chamber of Commerce.
Past Recipients of the Heise Award
| | | |
| --- | --- | --- |
| 2021 | Jodi & Joe Refosco and Chad Taylor | Taylor Made Deep Creek Vacations & Sales |
| 2020 | Steve Green | High Mountain Sports |
| 2019 | Hugh Umbel | Bear Creek Traders, Legacy Home Corp., Perkins Restaurant & Bakery, McHenry Beverage Shoppe |
| 2018 | Tom & Sara Jane Kuhn | Funland Family Fun Center |
| 2017 | Nancy Railey | Railey Mountain Lake Vacations |
| 2016 | Robert Heilig | Heilig's Plumbing & Electrical, LLC |
| 2015 | Brian Branthoover | Halian & Associates Landscapes |
| 2014 | Skip & Linda Carr | CLS Ventures, Inc. |
| 2013 | Judy Devlin | Book Mark'et & Antique Mezannine |
| 2012 | Frank Vitez | Phenix Technologies, Inc. |
| 2011 | Jan Russell | Savage River Lodge |
| 2010 | Michael Deligatti, Sr. | Arrowhead, Garrett 8 Cinema, Uno Chicago Grill |
| 2009 | Bill Meagher | Lakeside Creamery |
| 2008 | Brenda McDonnell | Brenda's Pizzeria & Trader's Coffee House |
| 2007 | Dave & Mimi Demaree | Demaree Inflatable Boats, Inc. |
| 2006 | Rob Michael | State Farm Insurance |
| 2005 | Barry Rush | Rush Services |
| 2004 | Will & Sharon Roszell | Garrett Automotive Company |
| 2003 | Jim Flanigan, Sr. | NuWay Interiors |
| 2002  | Johnny Marple | Johnny's Bait House |
| 2001 | Olen Beitzel | Beitzel Corporation |
| 2000 | Bill Sisler | Bill's Marine Service |
| 1999 | Jonathan 'Smiley' Kessler | Smiley's Pizzeria & Fun Zone |