Heise Entrepreneurial Spirit Award
The Heise Entrepreneurial Spirit Award was named in honor of Helmuth and Evelyn Heise, founders of Will O' the Wisp and Wisp Resort, Maryland's only downhill ski resort. The Heise Award is given to one business owner each year that has shown similar entrepreneurial qualities. The criteria for nomination include the following:
Open to business owners including partners/families that originated, developed, and/or significantly expanded business
Willingness to take risks with possibility of losing all
Involved in the community
High ethical standards
Nominee must be a member of the Chamber of Commerce
Demonstrated leadership (through one or more of the following): 1) By overcoming a formidable problem that threatened the business's existence 2) By showing business acumen through embarking on a creative, insightful or overlooked opportunity that makes important contributions to Garrett County's business environment 3) Through substantive community impact
The Heise Entrepreneurial Spirit Award Committee, composed of previous winners, will choose 3 finalists and present them to the Board with a recommended winner. Then the Chamber Board of Directors will choose the winner. The winner of the annual award is announced during the Annual Chamber Meeting & Dinner.
2021 Heise Award Winners
The winner of the 2021 Heise Entrepreneurial Spirit Award was announced during the Garrett County Chamber of Commerce Membership Meeting & Dinner on Thursday, July 22, 2021. Martin Heise made the presentation to this year's winners, Jodi & Joe Refosco and Chad Taylor, owners of Taylor-Made Deep Creek Vacations & Sales.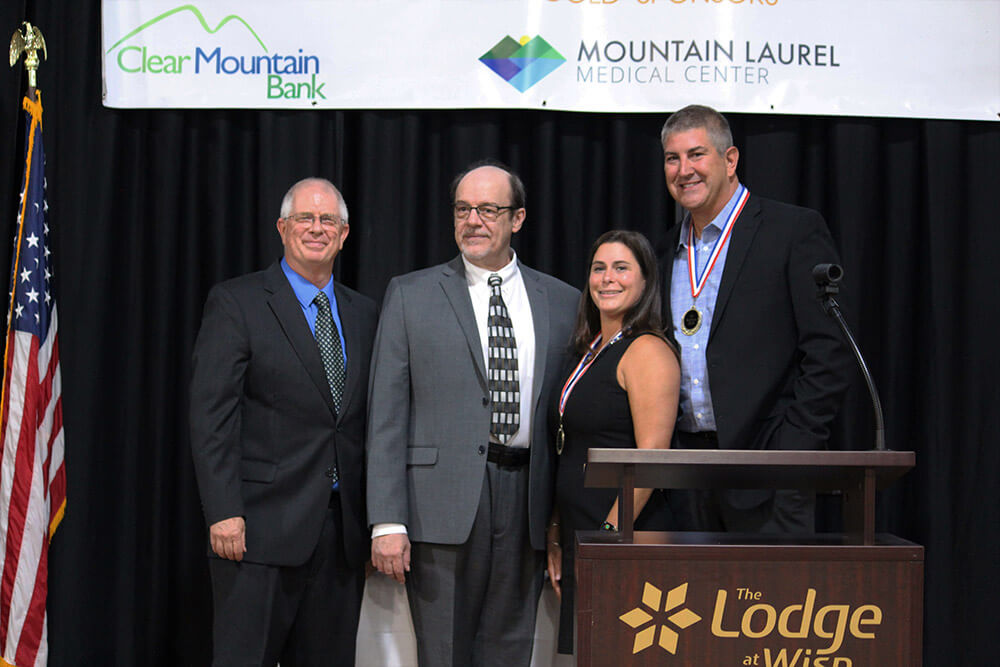 Jodi, Joe, and Chad began the business in 2008 during a time of significant economic downturn. With a strong belief in their business and the area, they made it through that difficult time and the company flourished. Starting with just one home, Taylor-Made now partners with nearly 450 homeowners.
Jodi, Joe, and Chad's commitment to community is part of the company culture, and employees are encouraged to volunteer. Taylor-Made shows support for a variety of non-profit organizations, local events, sports teams, and more. They are equally committed to the 200+ employees that make up their team.
The COVID-19 pandemic created a great deal of uncertainty with the shutdown of vacation rentals in the area. Jodi, Joe, and Chad clearly understood the risks presented by the virus and wanted to protect the community and their employees. However, the lack of income was a great challenge and they worried about the future of the families that depend on them. When vacation rentals re-opened, plans were in place to do so as safely as possible. They spent many hours consulting with industry experts and working with the management team to develop new best practices for employees and guests. It is a huge understatement to say that the past year has been challenging for business owners. Jodi, Joe, and Chad remained positive throughout everything.
"I am very excited to see Jodi, Joe, and Chad receive the 2021 Heise Award and be recognized for their business accomplishments and contributions to our community," said Regina Sweitzer, Chamber Interim President & CEO. "Their leadership, as a major player in the tourism industry during the COVID-19 crisis this past year, exemplifies entrepreneurship. Their passion for promoting Garrett County and desire to give back to the community truly deserve acknowledgement. Congratulations Jodi, Joe, and Chad."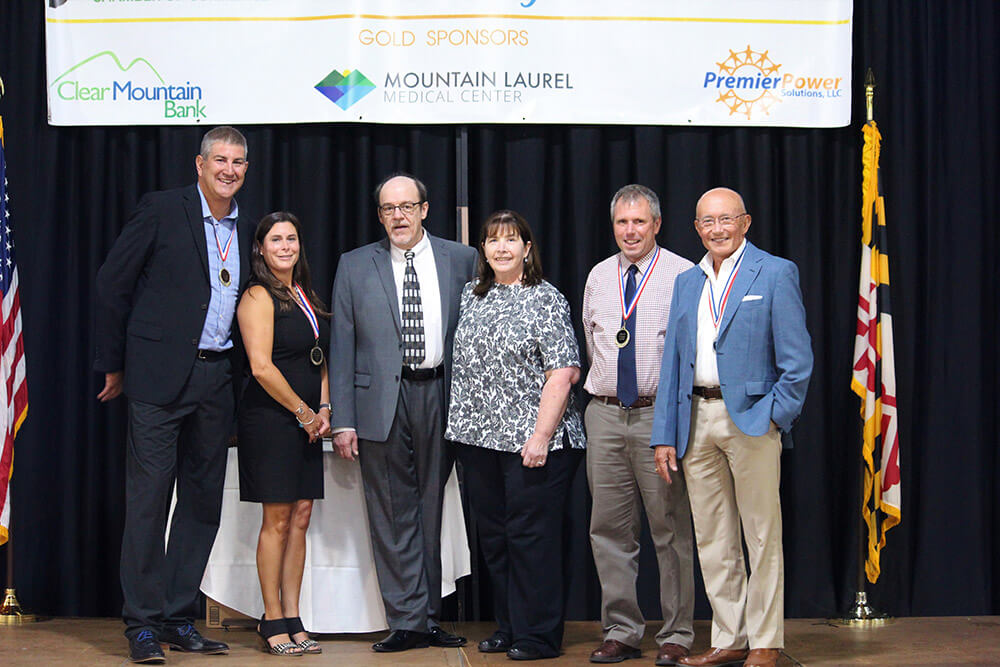 Past Recipients of the Heise Award
| | | |
| --- | --- | --- |
| 2021 | Jodi & Joe Refosco and Chad Taylor | Taylor Made Deep Creek Vacations & Sales |
| 2020 | Steve Green | High Mountain Sports |
| 2019 | Hugh Umbel | Bear Creek Traders, Legacy Home Corp., Perkins Restaurant & Bakery, McHenry Beverage Shoppe |
| 2018 | Tom & Sara Jane Kuhn | Funland Family Fun Center |
| 2017 | Nancy Railey | Railey Mountain Lake Vacations |
| 2016 | Robert Heilig | Heilig's Plumbing & Electrical, LLC |
| 2015 | Brian Branthoover | Halian & Associates Landscapes |
| 2014 | Skip & Linda Carr | CLS Ventures, Inc. |
| 2013 | Judy Devlin | Book Mark'et & Antique Mezannine |
| 2012 | Frank Vitez | Phenix Technologies, Inc. |
| 2011 | Jan Russell | Savage River Lodge |
| 2010 | Michael Deligatti, Sr. | Arrowhead, Garrett 8 Cinema, Uno Chicago Grill |
| 2009 | Bill Meagher | Lakeside Creamery |
| 2008 | Brenda McDonnell | Brenda's Pizzeria & Trader's Coffee House |
| 2007 | Dave & Mimi Demaree | Demaree Inflatable Boats, Inc. |
| 2006 | Rob Michael | State Farm Insurance |
| 2005 | Barry Rush | Rush Services |
| 2004 | Will & Sharon Roszell | Garrett Automotive Company |
| 2003 | Jim Flanigan, Sr. | NuWay Interiors |
| 2002  | Johnny Marple | Johnny's Bait House |
| 2001 | Olen Beitzel | Beitzel Corporation |
| 2000 | Bill Sisler | Bill's Marine Service |
| 1999 | Jonathan 'Smiley' Kessler | Smiley's Pizzeria & Fun Zone |