Heise Entrepreneurial Spirit Award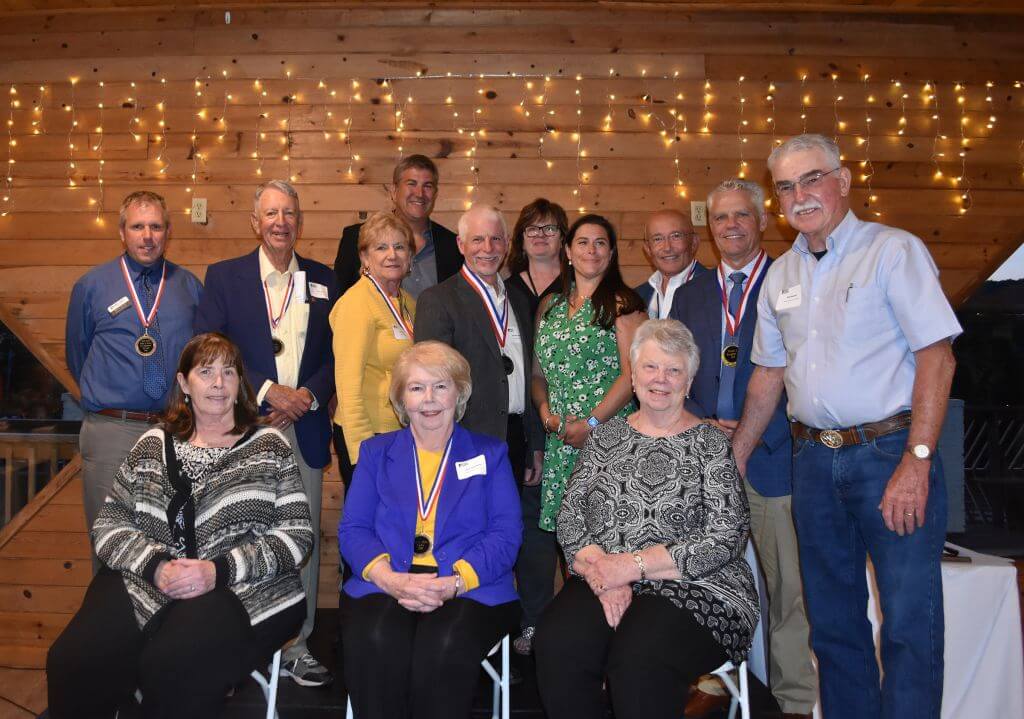 The Heise Entrepreneurial Spirit Award was named in honor of Helmuth and Evelyn Heise, founders of Will O' the Wisp and Wisp Resort, Maryland's only downhill ski resort. The Heise Award is given to one business owner each year that has shown similar entrepreneurial qualities. The criteria for nomination include the following:
Open to business owners including partners/families that originated, developed, and/or significantly expanded business
Willingness to take risks with possibility of losing all
Involved in the community
High ethical standards
Nominee must be a member of the Chamber of Commerce
Demonstrated leadership (through one or more of the following): 1) By overcoming a formidable problem that threatened the business's existence 2) By showing business acumen through embarking on a creative, insightful or overlooked opportunity that makes important contributions to Garrett County's business environment 3) Through substantive community impact
The Heise Entrepreneurial Spirit Award Committee, composed of previous winners, will choose 3 finalists and present them to the Board with a recommended winner. Then the Chamber Board of Directors will choose the winner. The winner of the annual award is announced during the Annual Chamber Meeting & Dinner.
The Garrett County Chamber of Commerce is now accepting nominations for the 2023 Heise Entrepreneurial Spirit Award. You can download the nomination form by clicking here. Please submit nominations via mail to ATTN: Nick Sharps, Garrett County Chamber of Commerce, 15 Visitors Center Drive, McHenry, MD 21541 or by email at nick@garrettchamber.com.  Nominations will not be accepted after Close of Business on March 3, 2023.
2023 Heise Award Winner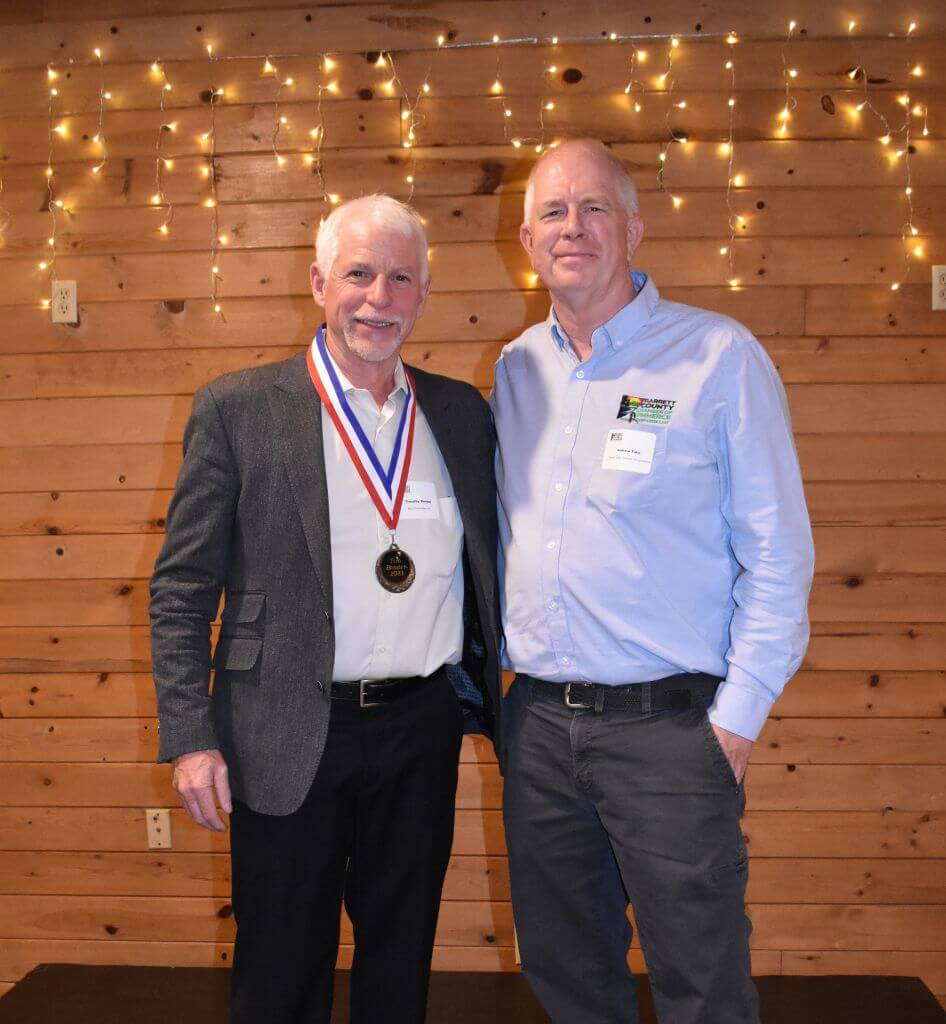 The winner of the 2023 Heise Entrepreneurial Spirit Award was announced during the Garrett County Chamber of Commerce's Annual Membership Meeting & Dinner on Thursday, June 1, 2023. Martin Heise made the presentation to this year's winner, Tim Bender of Byco Enterprises, Inc.
Byco Enterprises has been a quality provider of excavation, electrical, plumbing, HVAC, and sprinkler services for over 33 years in the community. Tim started the business with another partner as a pole building contractor.
As opportunities arose, they purchased a small electrical business and an excavation business to add to the services they could provide. They added plumbing and HVAC services from Tim's licenses and the talent that they already had within the company. Eventually they decided to split the business and Tim continued offering excavation, electrical, plumbing, and HVAC services as Byco Enterprises. This took on a big risk because he had to create a whole new customer base for those services without the help of another partner. A piece of land was purchased and a new shop was built with hopes that the business could support it. Not long after going out on his own, the 2008 housing recession struck and shook our local and national economy. Profits were tight and the risk of non-payment for jobs was a real threat every day. Tim's commitment to doing quality work at fair prices carried the company through that challenging season and set the ground work for the reputation that he has built.
"His commitment to honesty is also commendable," said Brian Schroyer, Vice President of Byco Enterprises. "He built the company on always following through on what he committed to, whatever the cost. He instills that value into the employees as well as the customers."
Tim supports various community organizations with both his talents and resources as well as serves on various non-profit boards. He has served on the American Youth Soccer Organization Board, as a referee, and the field committee for over 10 years. Tim has served multiple terms on the Goodwill Nursing Home Board and acted as Chair. Likewise, he has served as a Board member and Committee Chairs for Cherry Glade Mennonite Church. Tim spent 6 years on the Garrett County Chamber of Commerce Board of Directors and Chaired the organization from 2019 to 2020. He participates in various other local community services.
Past Recipients of the Heise Award
| | | |
| --- | --- | --- |
| 2022 | Bill Weissgerber | Railey Realty |
| 2021 | Jodi & Joe Refosco and Chad Taylor | Taylor Made Deep Creek Vacations & Sales |
| 2020 | Steve Green | High Mountain Sports |
| 2019 | Hugh Umbel | Bear Creek Traders, Legacy Home Corp., Perkins Restaurant & Bakery, McHenry Beverage Shoppe |
| 2018 | Tom & Sara Jane Kuhn | Funland Family Fun Center |
| 2017 | Nancy Railey | Railey Mountain Lake Vacations |
| 2016 | Robert Heilig | Heilig's Plumbing & Electrical, LLC |
| 2015 | Brian Branthoover | Halian & Associates Landscapes |
| 2014 | Skip & Linda Carr | CLS Ventures, Inc. |
| 2013 | Judy Devlin | Book Mark'et & Antique Mezannine |
| 2012 | Frank Vitez | Phenix Technologies, Inc. |
| 2011 | Jan Russell | Savage River Lodge |
| 2010 | Michael Deligatti, Sr. | Arrowhead, Garrett 8 Cinema, Uno Chicago Grill |
| 2009 | Bill Meagher | Lakeside Creamery |
| 2008 | Brenda McDonnell | Brenda's Pizzeria & Trader's Coffee House |
| 2007 | Dave & Mimi Demaree | Demaree Inflatable Boats, Inc. |
| 2006 | Rob Michael | State Farm Insurance |
| 2005 | Barry Rush | Rush Services |
| 2004 | Will & Sharon Roszell | Garrett Automotive Company |
| 2003 | Jim Flanigan, Sr. | NuWay Interiors |
| 2002  | Johnny Marple | Johnny's Bait House |
| 2001 | Olen Beitzel | Beitzel Corporation |
| 2000 | Bill Sisler | Bill's Marine Service |
| 1999 | Jonathan 'Smiley' Kessler | Smiley's Pizzeria & Fun Zone |