Activities & Attractions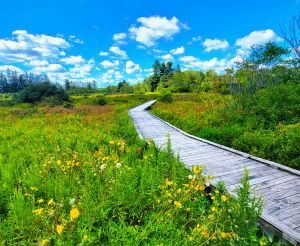 The town of Loch Lynn Heights offers a variety of outdoor recreation opportunities which include three soccer fields, one softball field, a paved walking path around the town's athletic fields. North of the fields, you'll find the Loch Lynn Heights Wetlands Trail, a 1 mile boardwalk and gravel walking trail through wetlands surrounding the Little Youghiogheny River. View our virtual reality tour of the Loch Lynn Heights Wetlands Trail.
The town is also home to local radio stations 104.5 KHJ, 92Q , 1050 WMSG & Z 95.9 and the Loch Lynn Heights Community Park.
History
Located about 8 miles south of Deep Creek Lake is Loch Lynn Heights, Maryland. Once known for its resort industry, the town is now a family-oriented community that 494 residents call home. Like Deer Park, Loch Lynn Heights became a popular resort area once the B&O Railroad came to town. Trains carried visitors from Baltimore, Washington or Pittsburgh to the station in Mountain Lake Park, just across from Loch Lynn Heights. The most popular destination, Loch Lynn Hotel (pictured right), was destroyed by a fire in 1918, and the adjacent casino - once home to an indoor swimming pool and bowling alley - was demolished in 1985.