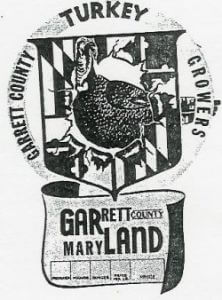 More than a decade before the Autumn Glory Festival became an annual event a group of turkey growers organized and promoted turkey dinners.
'The turkey dinners were an on again-off again event until the Lions Club became involved in the 1960s,' said local historian John Grant. However, the idea of a large festival to attract visitors to the area remained popular and led to the start of the Autumn Glory Festival, which now attracts more than 60,000 in mid-October. In 2004, the turkey growers were the Autumn Glory Grand Parade Marshals in recognition of the 50th anniversary of that first Garrett County Turkey Growers Festival.
'There are only a few of us left," said Loretta Opel, who helped prepare the turkey dinners and box lunches in 1954. She and the late Helen A. Glotfelty Booth worked with the Chamber to contact other surviving members of the Turkey Growers or their wives to take part in a celebration of that first annual dinner. The early dinner was considered a big success, with volunteers serving turkey dinners to as many as 475 people. Many also sampled the smoked turkey, which was a new addition at that time. Turkey dinners remained an important part of those early celebrations.
Wives of the Turkey Growers prepared the meal and 4-H members served people who came to the dinners from New Jersey, Virginia, West Virginia, Washington, D.C., Ohio, Pennsylvania and many areas of Maryland. Committee members for the Turkey Growers dinners included Chairman Gerald Glotfelty, Marvin Beitzel, Harland Bowman, Elaine Glotfelty, Robert O. Glotfelty, Roy Glotfelty and John Reckner.
John Holman of Friendsville won the dressed turkey door prize at the first annual dinner. The committee hired Dusty Shaeffer and three others for $50 to furnish entertainment for the evening. They also decided to give away a door prize of a 10 to 15 pound dressed turkey and a dressed turkey hen to the person, other than a member of the Turkey Growers, who sold the most tickets for the dinner.
Branded GarLand, Gar (for Garrett County) and Land for (Maryland), the festival trademark was to feature a shield, torn open, revealing a turkey. Rev. Henry J. VonSchlichten, former resident of Accident, and Carlton Knox of Bittinger each received $50 for submitting the winning brand name and trademark.
The ladies' menu committee prepared a souvenir menu for the first annual festival. Besides featuring "GarLand" roast turkey, it included gravy, dressing, mashed potatoes, sauerkraut, cranberry sauce and other items, still offered with current turkey dinners during Autumn Glory.
At that first dinner, Walter W. Dawson was the toastmaster. Remarks were made by Earle R. Poorbaugh, Director of Information for the State of Maryland; Senator Neil C. Fraley; Delegates George E Coddington, Harry C. Edwards, and Arthur H. Green; County Agent John H. Carter; Home Demonstration Agent Ethel Grove, Assistant County Agent James McHenry and President of the Mountain Top Chamber of Commerce Newton Coplin. Guest speaker was Dr. H. M. Devolt of the Livestock Sanitary Service.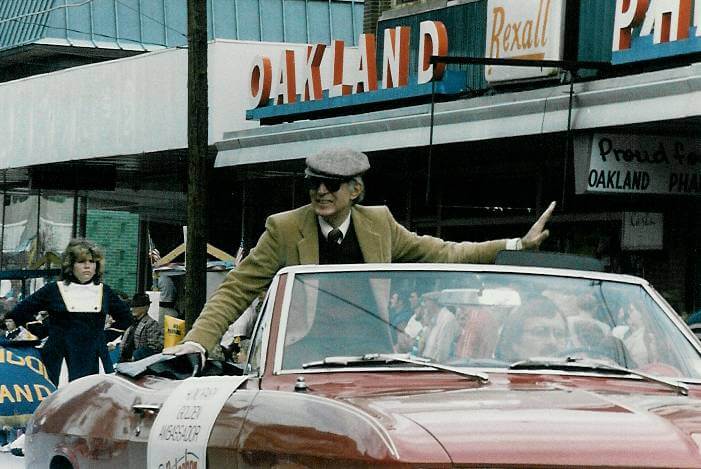 The turkey growers also provided box lunches for the Autumn Glory Special. Visitors coming to Oakland on the B&O Railroad were given the lunches as they loaded buses to go to Swallow Falls. Opel remembers making the lunches in the Southern States building owned by Lowell Loomis, a Turkey Growers member.
Some turkey dinners were served at the Deep Creek Lodge in McHenry. "Then we sold tickets for Northern High Autumn dinners," she said.
Some surviving members of the Turkey Growers, including Webster Brenneman, Blaine Glotfelty, Marvin Beitzel, Carlton Knox's wife Doris, John Reckner's wife Ida, Russell Teets' wife Dorothy, and Walter Bowman's son Sam participated in the 2004 parade and Autumn Glory Kick-off dinner.
Other members of the Garrett County Turkey Growers in 1954 were Harold and John H. Bowman; W. E. Buckle; Austin, Elwood, Gerold, O. Dale, Kermit, Nathan, Roy R. and R. O. Glotfelty; Thomas B. Hagerman; Russell Klotz; Ernest Knotts; Clarence Knox and Ralph Kolbfleisch.
The Autumn Glory Festival has transformed to a full 5-day festival kicking off with a Dinner and Reception on Wednesday, Fireman's Parade & Octoberfest on Thursday, and tons of events on Saturday. Those events include Grand Feature Parade, Arts & Craft Shows, Farmer's Market, and a newly added downtown Oakland event, 'Takin' it to the Streets'. Banjo, Fiddle and Mandolin Championships as well as the Tournament of the Bands are held this weekend as we as the Pumpkin' Chuckin' competition and Sunday Car Show.
More information about this year's festival can be found on the Autumn Glory Page and Brochures are available through the Visitors Centers and at other area locations.