May 30 - June 2, 2024 | Specials Throughout Garrett County
Maryland's largest freshwater lake, Deep Creek Lake, marks its 99th Anniversary in 2024 with a commemorative celebration featuring specials discounts and promotions from May 30 - June 2, 2024 featuring specials, promotions and discounts. Offers will be added closer to the event date.
History of Deep Creek Lake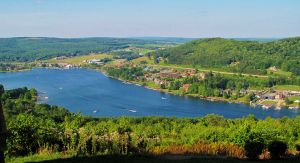 Deep Creek Lake is Maryland's largest freshwater lake, covering 3,900 acres and 65 miles of shoreline. The man-made lake got its start in 1925 as the result of an effort undertaken by the Youghiogheny Hydro Electric Corporation to harness the power of Deep Creek, a tributary of the Youghiogheny River. Large swaths of land were purchased, a 1,300-foot-long impoundment dam was constructed to stem the flow of water in Deep Creek, and thousands of trees were removed from the area to be flooded. In addition, 15 miles of primary and secondary roads were relocated. With Deep Creek sealed off, the expectation was that at least six months would be required for the lake to fill. But, boosted by heavy rains and snowfall, the process took only a couple of months. On May 26, 1925, the hydroelectric plant kicked into service, with water from the lake transported to the powerhouse through a 7,000-foot tunnel.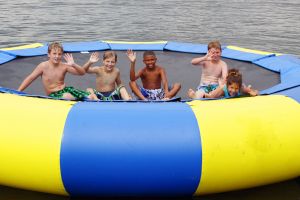 As the years passed, the area's fishing and boating prowess became well-known to visitors from Pennsylvania. Residents of the Baltimore/Washington population centers also found the area to be a convenient getaway place, especially after interstate highways were built. Among the last of these was I-68 – the national freeway – a major transportation route that arrived in 1991 and further opened up Western Maryland to tourism, commerce and more. Today, 1.4 million visitors each year take advantage of the limitless recreational options offered in and around the Deep Creek Lake area, creating their own Deep Creek Experience.
The physical transformation of Garrett County did not stop with the creation of the lake; it continued with the real estate and commercial development around the lake and throughout the County. Deep Creek Lake continues to shape the future development of Garrett County.